The more technologically advanced garage door openers become the more complex they get. In the past, you could operate such a device only with a wall-mounted button. Now there are all kinds of accessories and the devices themselves become ever more diverse. Learn more about their world.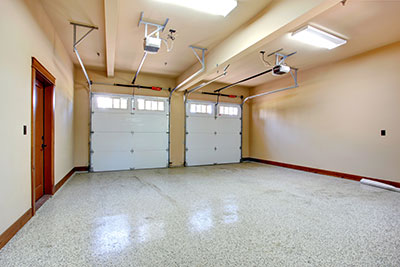 Belt Drive Openers
These are the second most common openers after the chain drive models. It is interesting to note that they have the same design and principles of operation. The motor spins a moving gear which is connected to a shaft with a sprocket at the other end. The motion is transferred to the sprocket and it runs the belt along the rail. The trolley connected to the belt and rail drives the moving arm attached to the door to enable opening and closing. The belt drive units are the quietest of all. The belt is made from soft yet strong material such as steel-reinforced rubber or polyurethane.
Rail
This is an important piece of hardware as it connects the motor unit to the wall above the door and houses the drive belt, chain or screw. The rail is made from steel and is very strong and durable. Due to its make and position, it has a low risk of damage. Still, if the limits and force of the opener are not set correctly, it may get slightly bent due to improper use. Timely repair is crucial in this situation.
Remote Control
This device formally known as garage door transmitter emits signal which is captured by a receiver set next to the motor. The signal is transferred to the motor and it starts running to open or close the door. Currently, most remotes have dual or triple frequency operation for minimizing the risk of interference. The latest devices are also equipped with rolling code technology. It works to change the access code automatically after each use so that no intruder can guess it or learn it.
Opener Repair
Broken trolley and broken motor moving gear are among the most common opener issues. The repair involves replacing the broken component with a new one that has the same specification. Less often, the circuit board or the motor has failed. In this case, the problematic component is replaced. A bent rail can typically be straightened and would not require replacement.
For any kind of opener repair, rely on our skilled and experienced technicians. We at Garage Door Repair Baymeadows work with all types of electric operators and their accessories. The brand, age or design of the device is completely irrelevant. It will receive the best fix quickly.
Count on us for opener installation and replacement as well. To hire our services, call us or leave a message.
Browse our website for more information on our professional solutions.